The Celtic Royal City of Tara has two hilltops - Tara and Skreen (aka Skryne, Scrin and Achall) and between these two hills is a valley that is sacred to the Celtic Horse Goddess. The river in this high valley is called the Gabhra (see Tara na Ri tab for more info) and the translation of its oldest name means White Mare.
The White Mare was sacred to the Celtic Iron Age Sons of Mil who came to Ireland about 2,500 years ago. The previous group was the Bronze Age and they had the White Cow as a symbol of the Goddess - Boann or River Boyne.
more from Druidschool -
HERE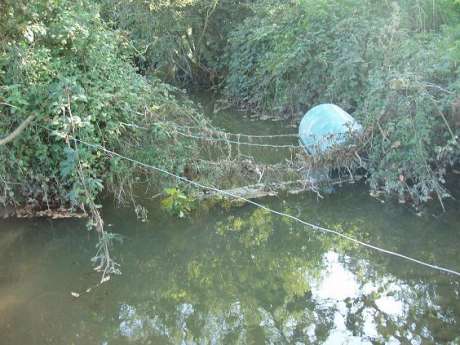 The Gabhra River stagnant and polluted at the foot of Barrow 53
http://www.indymedia.ie/article/88676

This stream is called in English the Gowra, which is a corruption of its Irish name, variously given as the Gabhair or the Gabra or Gabor, which is understood to translate as the 'goat': that is, the stream is named after an animal, a goat.
.........
..............

One of the first strange pieces of information I was given (by Muireann Ni Brochalain) was that the name 'the Gowra' in Old Irish means not the goat, but rather 'the white mare'. This means that the White Mare was designed to gallop north to join the Boyne. This river-name is an Anglicisation of the Old Irish word Bōann, which means 'cow goddess'. The area where the White Mare enters into the Cow Goddess is currently owned by the Columban Fathers and is a nature reserve [Dalgan Park] open to the public



more

f

rom Druidschool HERE

Tara Tara Tara


Please contact for any questions: anitagreg@gmail.com


"...On a dark night , Tara must be able to see the stars..."
Colm Toibin




valley of the White Mare...